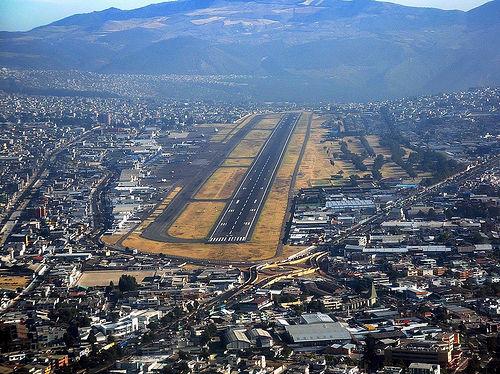 Quito International Airport Mariscal Sucre is likely where you will first get your feet wet in Ecuador.
There is no problem getting a taxi here to your hotel. I would strongly suggest first timers to pay a little extra and go to a hotel that you have either booked or stick with names that you are familiar with. There are many hostals that are cheaper…however many are in sketchy areas that may be dangerous therefore take the time to reasearch this and use ones that have been recommended by someone who has stayed there. I have stayed at Hostal Arco del Sol. Around $30 a night and includes breakfast. It is clean with wonderful staff and they provide internet service via wi-fi as well as 2 computers for guests. Ask if you can stay in the newer rooms as they are a little nicer. Remember this isn't the Hilton so don't expect luxury. A good place to crash and get some sleep. Here is a link so you can look for yourself. http://www.hostalarcodelsol.com/
Also it is worth looking at Quito's airport webpage http://www.quiport.com/www/frontEnd/main.php?idPortal=2 You will likely want to spend some time in Quito as it is a beautiful city with lots to offer.